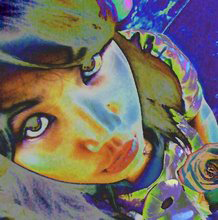 I'm just an ordinary girl who is used to be called as Gretta. The full name of Gretta is actually Margaretta Carolina. Does Carolina her surname or something like that? Hmmm... How can I explain this? This is kind a complicated story so better not to discuss it here. Hehehe. You may assume Carolina as my surname. :P

Gretta is now going to be a 20 years old not yet mature girl since she is really into animes and mangas specially Sailor Moon. She is also into figure skating so much. Unfortunately she can't improve her skills as good as when she was in her home country, Indonesia. She is also crazy of designs. Well this theme of her blog is designed by Leen (thanks for the cool skin)!!! She is a perfectionist. All the things she does have to be well done, and NOT half done (it's scary if I have to watch some blood on my meal!! (>,<)

She's now hardly studying architecture in the Netherlands. She speaks more Dutch than English nowadays - ever since she attends a Dutch university of appliances (Hogeschool van Amsterdam). She may not speak English fluently as before (or even her writing skill is becoming worse), but she can still understand what people are saying.





Margaretta Carolina Siwalette


Create Your Badge




































best viewed with mozilla firefox
layout by leen.
editted by me